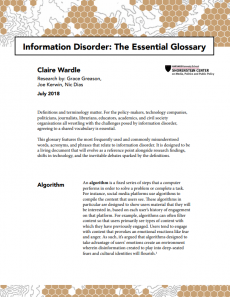 Definitions and terminology matter. For the policy-makers, technology companies, politicians, journalists, librarians, educators, academics, and civil society organisations all wrestling with the challenges posed by information disorder, agreeing to a shared vocabulary is essential.
This glossary features the most frequently used and commonly misunderstood words, acronyms, and phrases that relate to information disorder. It is designed to be a living document that will evolve as a reference point alongside research findings, shifts in technology, and the inevitable debates sparked by the definitions.
Published by Harvard University's Shorenstein Center on Media, Politics, and Public Policy.