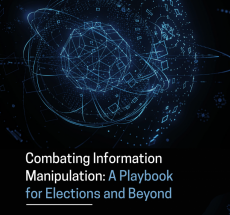 The International Republican Institute, National Democratic Institute, and Stanford Internet Observatory developed the Combating Information Manipulation: A Playbook for Elections and Beyond. Informed by best practices and lessons learned by civil society, governments, academics, and other practitioners around the world, the playbook is intended to help leapfrog the first six months of the electoral preparation process and enable societies to effectively push back against efforts undermining free and fair elections, supporting democratic processes and rights more broadly.
The playbook guides users on how to 1. identify, 2. respond and 3. build resiliency to information manipulation.  These three sections empower users to build their knowledge on mapping the information environment; recognizing common information manipulation narratives; reporting to platforms, governments, or election management bodies; developing public awareness campaigns; and improving digital literacy.
The Playbook is available in English, French, Spanish, and Arabic at the links below.
Combating Information Manipulation: A Playbook for Elections and Beyond (English)
Combating Information Manipulation: A Playbook for Elections and Beyond (French)
Combating Information Manipulation: A Playbook for Elections and Beyond (Spanish)
Combating Information Manipulation: A Playbook for Elections and Beyond (Arabic)